MICHAEL CROTTY JR. - MIDDLESEX MAGIC DIRECTOR/HEAD COACH
Michael Crotty Jr., the son of Middlesex Magic founder, Mike Crotty Sr., was a player on the first Middlesex Magic team in 1993. Crotty played for the Magic while attending Belmont High School where he was a two-time Middlesex League All-Star, the 1999 Middlesex League MVP, and both a Boston Herald and Boston Globe All-Scholastic selection. After his senior year Crotty spent a post-graduate year at Phillips Exeter Academy where he averaged 19 points and 11 assists per game. After being heavily recruited Crotty selected the prestigious Williams College as the place he would call home for the next four years.
As a member of the Williams College Ephs, Crotty was a two-time All-American and was named to the NCAA All-Tournament team in both 2003 and 2004. A two-time Captain, Crotty led Williams to the 2003 NCAA National Championship with a 67-65 victory over Gustavus Adolphus. The following year Williams made it back to the Championship game but fell short in their chance to repeat with a two point defeat. Crotty started every game of his four-year career and set an Eph record for games started and played, with 120. Crotty also owns the Williams record for most minutes played in a career (3,861) and minutes in a season (1,025). He holds the Williams record for career assists with 819, which stood as the 4th best in NCAA history upon graduation. He broke the single season assist mark each of his four seasons and raised the mark at Williams for one season from 145 to 249. Crotty scored 1402 points while wearing the Williams Purple and Gold, and was selected as the Bob Cousy Award winner in 2004 for the best point guard in New England across Division I, II, and III. The consummate point guard, Crotty had a career assist to turnover ratio of 2.73 to 1. Crotty's Class of 2004 is the winningest class at Williams with an overall mark of 104-16 (.867)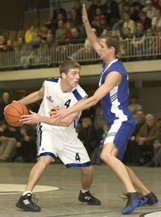 After graduating from Williams, Crotty spent a year playing professional basketball. He traveled to the Philippines with a United States Pro-Am team to face professional teams from the top league in the Philippines. Crotty then toured through Europe with the Harlem Globetrotters making stops in Portugal, Spain, Italy, Germany, Austria, Czech Republic, Slovakia, and Turkey, playing in front of thousands of people at arenas and on US Military bases. Crotty then signed with UBC Muenster in a professional league in Germany where he averaged 20.4 points and 10.3 assists and led his team to the playoffs in 2005.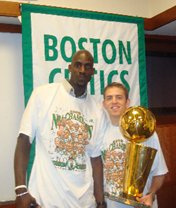 After his year of professional basketball, Crotty was hired by his hometown Boston Celtics to be the team's Director of Player Development. As the Director of Player Development for the Celtics, Crotty was responsible for working with the all of the Celtics players on personal and professional development. Crotty did a variety of tasks for the Celtics including college scouting, film breakdowns, preparing team scouting reports, orchestrating individual workouts, and when needed scrimmaging with the players in practice. In 2008 the Boston Celtics defeated arch rival Los Angeles Lakers to capture their 17th World Championship, and as the Boston Celtics Director of Player Development Crotty received an NBA World Championship ring!
Now, as the current Director of the Middlesex Magic, Crotty oversees all teams and coaches multiple teams a year, including the 17U team annually. "Having the opportunity to have a profound impact on the lives of young people is what drove my father," Crotty Jr. said, "Helping them become better basketball players is one of our goals, but helping them become better people is more important. His legacy was helping hundreds of kids use basketball as a means to a college education. I believe deeply in the mission he had, and it is my goal to continue the work he started!"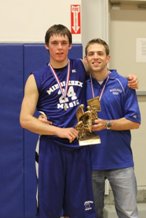 Currently the Middlesex Magic is as strong as it has ever been. Over the past five years, the Middlesex Magic junior boys teams, led by Crotty, have captured 20 major championships while helping over 100 student-athletes go on to play college basketball. The program boasts over 400 alumni that have played college basketball, and two current NBA players, Pat Connaughton of the Milwaukee Bucks and Duncan Robinson of the Miami Heat. The Middlesex Magic has teams from the ages of 7-18 and runs seasonal programs, camps, clinics and offers private and group skills training.