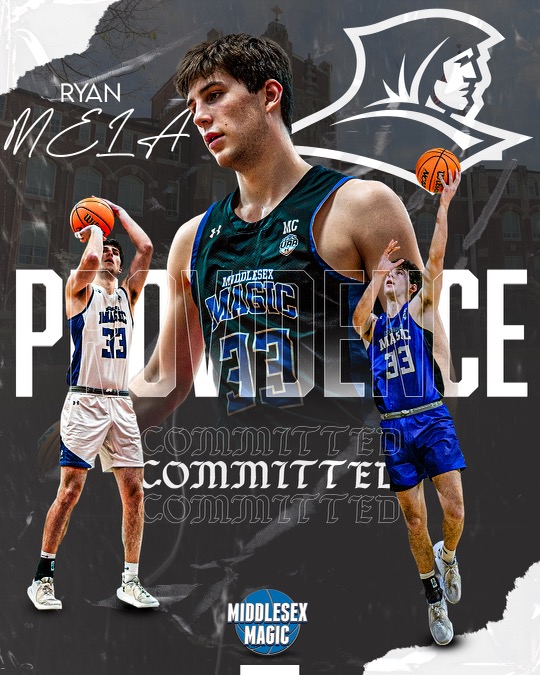 Ryan Mela Commits to Providence
MAGIC ACT: Massachusetts prospect Ryan Mela can't wait to hoop it up for the Friars
By BRENDAN McGAIR / bmcgair@pawtuckettimes.com Aug 2, 2023 Updated Aug 2, 2023
Mela
The ability to finish at the rim for the Middlesex Magic is a quality that Ryan Mela plans to bring to Kim English and the Providence Friars beginning with the 2024-25 season.
Photo by Noah Bou
Facebook
Twitter
Email
Print
Copy article link
Save
PROVIDENCE – When Ryan Mela picked up a scholarship offer from the Providence Friars last month, he received a text message from a fellow 2024 high school prospect who had already supplied new head coach Kim English with a verbal commitment.
Daquan Davis reached out to Mela after the pair crossed paths in Georgia, site of the Under Armour Association Championship. Davis was hooping it up for the grassroots program he had recently joined (Team Thrill) while Mela was looking to keep rolling with Massachusetts-based Middlesex Magic.
"After I got the Providence offer, he (Davis) texted me, 'You know what to do," said Mela. "It was great playing against him. We had some intense battles, but I'm glad we're going to be on the same team to continue those battles. He's a heckuva player."
Mela is a talent in his own right, witnessed by English and assistant coach Dennis Felton prioritizing the Natick, Mass. native during the July live period. After taking a two-day official visit to the PC campus that started last Friday, Mela informed English and the Friar staff on Tuesday that he plans to come aboard as has Davis, the point guard who announced his intentions to head to the Big East school back in early July.
"I loved it. Once I went there, I knew it was the place for me. It was beautiful. Hanging out with the players and coaches was awesome," said Mela. "Growing up around Providence and watching all their games and seeing how well they've done, it's just an honor to be a part of it."
***
Mike Crotty remembers being impressed when Mela played his AAU ball with the Bay State Jaguars. The director/U17 coach of the same Middlesex program that enabled Mela to spread his wings as a player and recruit, Crotty lives in Wellesley, thus he knew about the future Friar who lived in the adjacent town.
"He was a thorn in our side," said Crotty, recalling when the Magic faced off against the Mela-led Jaguars. "He was really good."
Coaching contemporaries based in Natick told Crotty that he would be wise to bring him into the Middlesex Magic fold. Upon connecting before the 2022 AAU season, the view was that Mela was a powder keg just waiting to be tapped.
"He's a Division I player for sure. How high? I'm not sure yet," said Crotty.
For Mela, he simply wanted to be noticed.
"Coach Crotty brought me into the spotlight. I went from zero offers to 30 with him," said Mela, who reclassified from his original high school graduation year (2023) upon transferring from Natick High to The Newman School, located in Boston and a member of the ultra-competitive NEPSAC.
The decision to become a 2024 prospect meant that Crotty would have two years to coach Mela, who joined Middlesex for its inaugural spring/summer season on the Under Armour circuit. On an U17 Magic squad brimming with future Division I players – from J.P. Estrella (Tennessee) to Joe Nugent (Holy Cross) to Aidan Cammann (Stanford) to Mike Loughnane (Davidson) to Marvin Musiime-Kamali (Akron) – Mela distinguished himself as the leading scorer.
"He was incredible," said Crotty about Mela's 2022 season with Middlesex.
Beating his man off the bounce is Mela's bread-and-butter move.
"He just gets by people. He's super shifty off the dribble … crossovers, change of direction, getting a guy off-balance and spinning," said Crotty.
Middlesex players would tell their coach that Mela was worthy of a 99 rating as a finisher, borrowing from video game parlance.
"Left-handed or right-handed, up and under, he would use the rim as a shield for dunks. He's bouncy and has all the finishing moves that you want," said Crotty.
'Wonder Woman 3' May Not Be in Development
menu
volume_off volume_up
pause
Next
Stay
pause
volume_off
-0:02
sd
share
closed_caption
fullscreen
Auto (360p)
225p
360p
Subtitles Off
Subtitles EN
'Wonder Woman 3' May Not Be in Development
'Wonder Woman 3' May Not Be in Development
'Wonder Woman 3' May Not Be in Development
Arts and entertainment | 0:48
In Entertainment: Cardi B Mic Auction, Tory Lanez Statement & Pink Concert Baby
Arts and entertainment | 3:22
Olivia Rodrigo Releases New Single 'Bad Idea Right?'
Arts and entertainment | 0:18
Dogs Rescued From South Korea and Brought to the U.S.
Arts and entertainment | 7:40
On a Positive Note: Marking ADA Anniversary as Disabled NY Man Plies Trade at Local CVS
Arts and entertainment | 2:00
On a Positive Note: Limo Driver & Child Become Unlikely Friends After Act of Kindness
Arts and entertainment | 1:51
75th Primetime Emmy Awards Set a Date
Arts and entertainment | 0:43
Taylow Swift Announces '1989 (Taylor's Version'
Arts and entertainment | 0:33
Lorde Teasing New Music
Arts and entertainment | 0:32
'Joy Ride' Available to Stream Online
Arts and entertainment | 0:32
The 6-foot-6 swingman has added layers to his game, most noticeably from the mid-range area and three-point line, to complement his ability to attack. For Mela, it's not lost on him regarding the importance of stretching the defense.
"Everyone has to be able to shoot the ball at the next level. I know they're going to be ready for me to shoot it. Hopefully, I can improve in that area over the next year. It should be good," said Mela. "My game and versatility can help PC win a lot of games, along with my IQ. It should be a lot of fun."
If there was a sign that Mela's hard work to improve his shooting touch is bearing fruit, it came during the championship game of last month's UAA Tournament, the same one where Mela met Davis on the hardwood. With Middlesex down five with roughly 90 seconds left, Mela scored five straight points as the Magic finished the job. The crowning moment came when he hit a step-back three.
"I thought that was a defining moment," said Crotty. "Everyone wants to see what happens when the lights really shine. When they shined the brightest, Ryan stepped up."
***
When English became George Mason's head coach in 2021, he reached out to Crotty about what could be done to ensure that Cumberland native Tyler Kolek would remain at the Atlantic 10 school. Ultimately, Kolek moved on and found success at Maquette.
With Mela drawing interest from programs in the A-10, Ivy League, and Patriot League, it stood to reason that English was aware of the youngster's potential while he patrolled the sideline at Mason. Crotty talked to Felton and would exchange texts with English about Mela while the pair settled into their new jobs at PC. The true indicator of just how serious the Friars were in landing the New England product came last month when Crotty participated in a conference call with English and Felton.
"They weren't afraid that he didn't have 25 high major offers. They said he was different from most wings and that they wanted him," said Crotty. "I love the conviction. I love the belief. They just jumped on it."
Providence wasn't the first high major school to reach out to Mela, yet the Friars were the first ones among the Power Five/Big East brigade to extend a scholarship offer.
"That meant so much to me," said Mela.
The Friars continued to track Mela closely when Middlesex went out to Las Vegas for a season-ending tournament. Looking back, getting him on campus last weekend merely helped to seal the deal. He especially enjoyed his time around the current PC players, from grabbing dinner to hanging out in the dorm.
"They were accepting and I feel comfortable with my decision," said Mela. "It was a great feeling to know that everyone is super nice and super supportive."
The Friar assistants were in the room when Mela broke the news to English on Tuesday.
"He was as super pumped as the other coaches. It was an unreal experience," said Mela, who clearly feels relieved to be done with the college process. "For people who don't know, the whole grind of AAU on top of getting recruited is so much for the players. This feels great to be committed and get this done with."
Noted Crotty, "You only need one, and they (the Friars) believe in him. He loved his visit. I think he has a chance to be an impactful guy right away and a special player for them."
Mela looks forward to checking out as many games as time permits at the Amica Mutual Pavilion this coming season.
"I'll be there, for sure," he said.
Follow Brendan McGair on Twitter @BWMcGair03