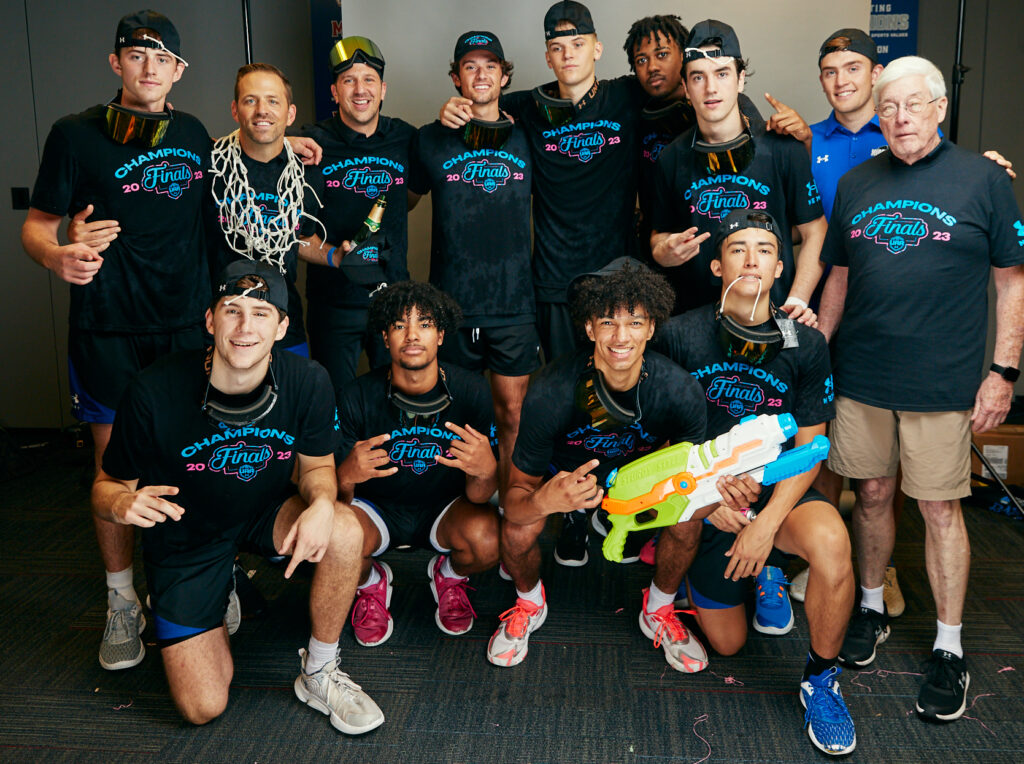 Middlesex Magic are 17u Under Armour Champions
New England Grassroots Winning on the National Stage
There is a lot to unpack from the early July live period, including championships for Middlesex Magic 17U-UAA, Middlesex Magic 16U-HGSL, Team New England's 17U-HGSL & 15U-HGSL, and Mass Elite 17U-BigFootXL, as well as AJ Dybantsaand Cooper Flagg standing out amongst the competition on the national stage.
Last week, Middlesex Magic's 17U UAA squad topped the 32-team league, winning this summer's UAA (Under Armour) Circuit Championship, led by Ryan Mela, who earned an offer from Providence soon after the event, as well as CJ Cox.
It started with pool play on July 6th, for which they were placed in Pool DD. In their first game, they faced Arizona Select, narrowly edging them out 50-47, with especially notable performances from Daithi Quinnwith 18 points and CJ Happy with 15 points and 6 rebounds.
Their second game that same day was a bit easier, as they defeated Global Squad 66-43, led by Ryan Mela with 18 points, 5 rebounds, and 4 assists, as well as CJ Cox with 13 points and 5 assists. The following day, July 7th, they faced Pro One in their final pool game. This was their only defeat in the four-day event, falling 6 points short in a 52-46 loss.
That same day, the single elimination tournament began, with only 16 teams remaining. In the first round, the Middlesex Magic faced the Illinois Wolves, who had a 14-point lead in the first half, before the Magic held them to only 11 total points in the second half, winning 60-45 with exceptional performances from Luka Toews with 12 points and 5 assists, and CJ Cox on the defensive end.
The next day, July 8th, their first game was against Breakaway Basketball in the quarterfinals, who beat the Magic in the regular season. This time, they put on their best defensive performance of the year, handling Breakaway with ease in a 63-29 rout, behind 15 points from Daithi Quinn. Another particularly big game came once again from Ryan Mela, this time more on the defensive end, as he added 4 steals to his 12 points.
In their second game that same day, they faced Team Thrill in the semifinals, who had also beaten the Magic during the regular season by 3 and was coming into the game undefeated. This time, they were given much more of a challenge. In a clutch performance, Ryan Mela scored 16 second half points, leading the Middlesex Magic to a 72-69 victory in "an absolutely elite game packed with coaches," as described by Middlesex Magic Head Coach Michael Crotty. This triumph came behind 22 total points from Mela, who shot 9 of 11 from the field, 18 points from CJ Cox, who shot 7 of 10 from the field, and 12 points from Jacob Hogarth, who had one of his most notable performances of the event.
Then came the championship game of the tournament on July 9th, against Canada Elite. Once again behind Mela's 20 points and Cox's 16 points, the Middlesex Magic edged out the opposition in a 58-54 battle, claiming the Under Armour Association Championship. Another elite performance in this game came from Austin Hunt, who added 15 points.
Ryan Mela and CJ Cox had nothing left to prove after the event. "They were our offensive anchors throughout," said Crotty. "Ryan averaged 16.4 points, 6.5 rebounds, about 3 steals, on 58% from the floor. He was just outstanding. And CJ Cox was at about 13.5 points on 48% from the floor and just defended everybody's best guard, shutting down a lot of really premier players in the UAA," he continued, highlighting their primary attributes. "I'd probably call them Co-MVPs if I had to, but great performances from Daithi Quinn, Austin Hunt, Jacob Hogarth, CJ Happy…"
The Middlesex Magic program's success was not limited to just the sneaker circuit however, as the Magic's 16U-HGSL squad won the Hoop Group Summer Jam Fest championship. The squad was led by Thomas Ferdinando, Quinn Costello, and Teagan Swint, amongst a strong collective effort as a group.