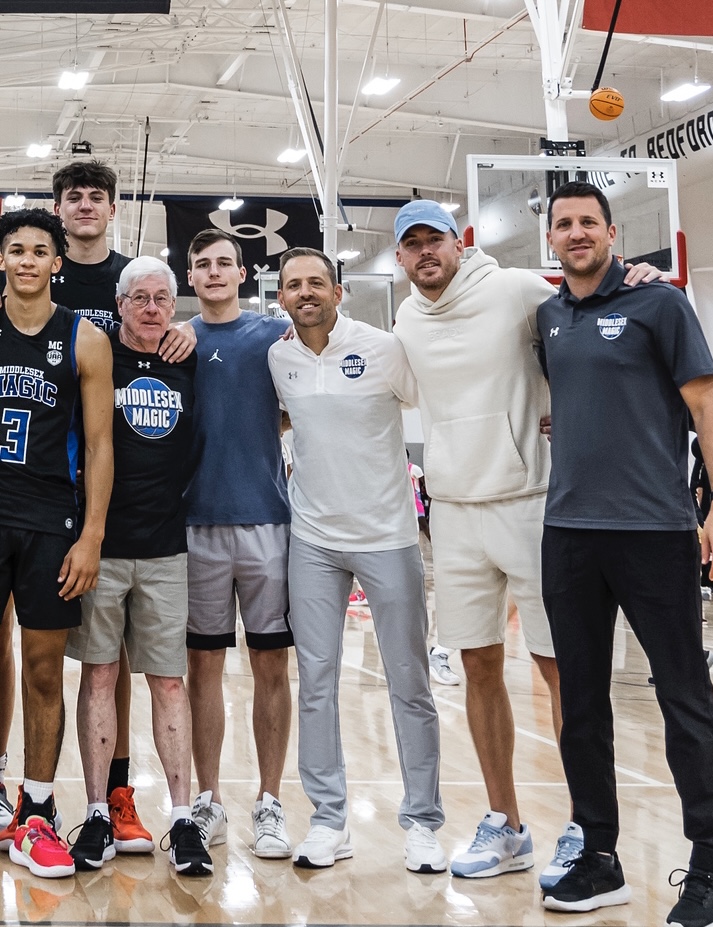 Bucks' Connaughton, Marquette's Kolek share special bond
Bucks' Connaughton, Marquette's Kolek share special bond
By Lily Zhao
Published March 17, 2023 9:47PM
article
Tyler Kolek; Pat Connaughton
MILWAUKEE – Pat Connaughton, an NBA Champion on the hottest team in the league, the Milwaukee Bucks, and Tyler Kolek, the Big East Player of the Year who has his Marquette Golden Eagles soaring high into the NCAA Tournament, are two premiere players in Milwaukee who happen to share a special bond. 
"It's just through the brotherhood our AAU program creates," said Connaughton. 
That AAU program, the Middlesex Magic in Massachusetts, is the glue that binds the two. It's all thanks to their head coach, Mike Crotty. 
RELATED: Check out the new and improved FOX Sports app
"It's special," said Crotty. "You try and take a step back and realize how lucky you are to have guys that are having so much success on such a national stage."
It all started back in 2009 when Connaughton joined the Magic and developed a relationship with the late Mike Crotty Sr., Crotty's father. Ever since his dad's passing, the two became even closer. 
Pat Connaughton
"It's more like family now, more like a brother," Crotty said.
And in Pat, he discovered something special about a decade ago.
"His athleticism stood out right away as a player, but then it was who he was as a teammate," Crotty said. "He was really unselfish."
Then, enter Kolek, who played for the Magic a few years later.
"I was like who is this kid?" asked Crotty. "He was mesmerizing. He was in the fourth grade."
SIGN UP TODAY: Get daily headlines, breaking news emails from FOX6 News
From there, Crotty had a plan. 
"Pat always comes back and will run with the team," said Crotty. "When you start to realize maybe you have another guy potentially of that ilk, you definitely want to connect them."
"I always try to be a mentor to anybody who comes through that program in general," Connaughton said. "Tyler's kind of shown what you can do at the highest of levels if you have belief and confidence in yourself, and I think, you know, what he's done this year has been incredible."
It's been a fun friendship these last couple of years between Connaughton and Kolek. 
Tyler Kolek and Mike Crotty
"He knows my door is always open," Connaughton said. "He's welcome to come to games whenever he wants to."
And yes, it's also a competitive one. 
"For Tyler, he looks up to Pat and what Pat has accomplished, but when we're working out, and we're doing competitive stuff, Tyler's not going to take a backseat to anybody," said Crotty.
"Tyler is somebody who I've become close with and somebody who I enjoy watching play, so I'll wear his jersey," Connaughton said. "They all give me a hard time for wearing the other blue and gold, the non-Notre Dame blue and gold, but I have some fun with it."
Mike Crotty and Pat Connaughton
Watching this friendship blossom has been special for Crotty, who has seen Connaughton's Bucks gear up for another NBA title run. Recently, he was also able to watch Kolek win the Big East Conference Tournament championship inside Madison Square Garden. 
"I'll lock that in with being on the court in Milwaukee with Pat after they won Game 6 against the Suns," said Crotty. "I was so happy I was there. It was emotional being there with Tyler and family."
Kolek was also appreciative of his support system after that big win. 
"To share that with them, with my mom, with my high school coach, my AAU coach, my brother, my dad, my two best friends, it's special," Kolek said. "There's no better feeling."
FREE DOWNLOAD: Get breaking news alerts in the FOX6 News app for iOS or Android.
Recently, they all reunited last summer in Chicago to help out the Magic. 
"We have an NBA champion, and no one knew, but soon to be Big East Player of the Year, sitting on our bench," said Crotty. "(They were) supporting us, talking to the guys. Giving us their feedback. That was special for the kids on our team currently."
Giving back, that's what it's all about. 
"To show them some things that I think could potentially help in their careers is something that I enjoy doing and something that, you know, I think can show them, hey, no one believed I could be in the NBA when I was your age, but I got there," said Connaughton. "How can I be an inspiration to help you guys to achieve whatever it is your dream may be."
Tyler Kolek and Mike Crotty
So, from one special team and coach who brought them together, now this city can keep them close. 
"To be able to go out there and see 18,000 fans chanting for both my guys and for the Bucks and Marquette Golden Eagles, that's special to me," Crotty said. 
Crotty said their goal is to reunite at one of the Bucks upcoming playoff games.
Until then, Kolek and the Golden Eagles tip off NCAA Tournament first-round action Friday at 1:45 p.m. against Vermont.