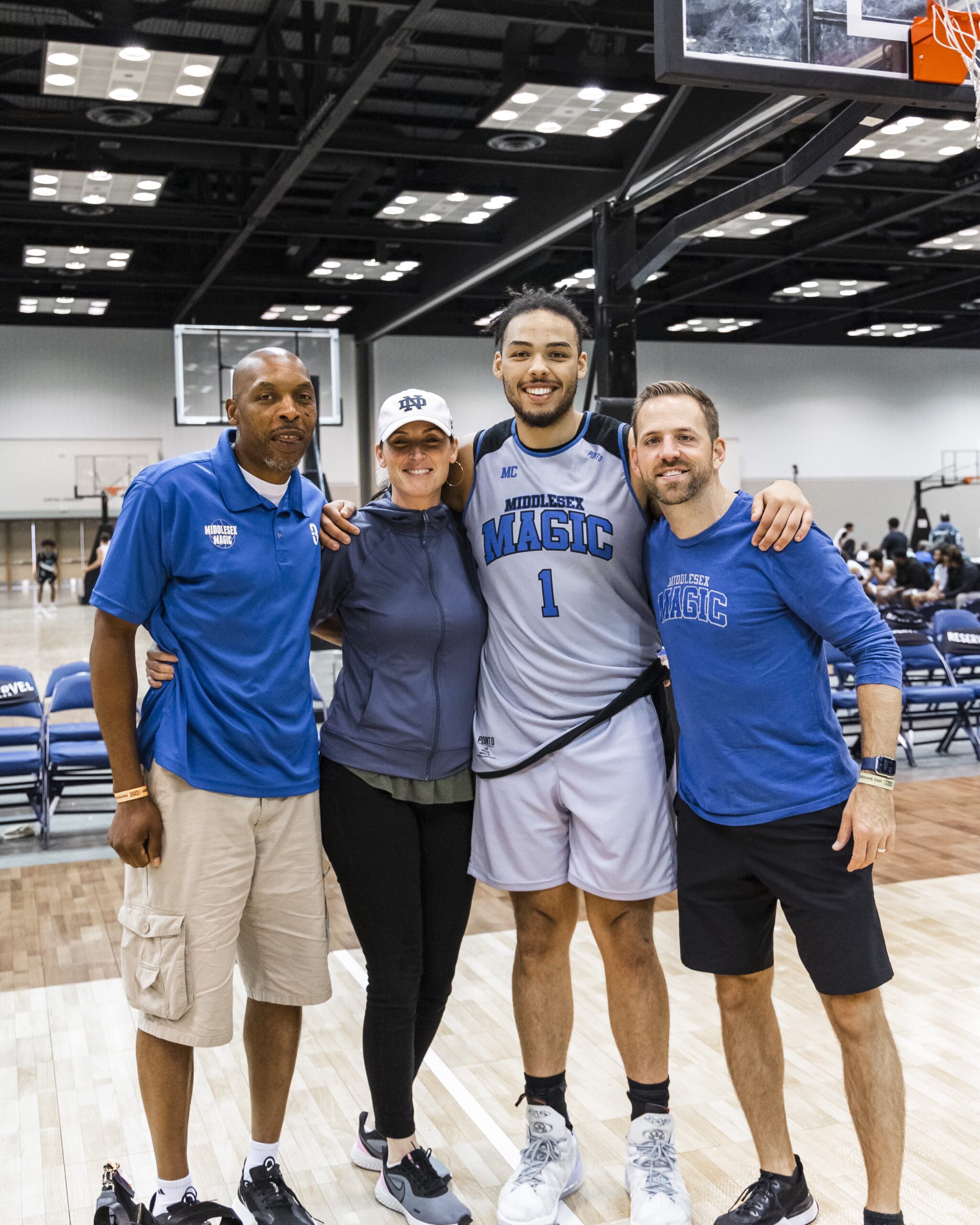 Dom Campbell Commits to Notre Dame
Coach | Notre Dame Getting A Good One In Dom Campbell
---
Mike Crotty has long been a fan of Mike Brey and the Notre Dame men's basketball program and the bond was made even stronger last month, when Dom Campbell‍ committed to the Irish.
"I'm very excited for him," says Crotty, Coach and Director of Campbell's Middlesex Magic AAU program.
The 2022 New England power forward chose Notre Dame over offers from schools like Boston College, Penn State, Oklahoma, Tennessee, Virginia Tech, Stanford along with a host of others, including several Ivy League schools.
"I love him," Crotty says of the 6-foot-9, 235-pounder. "He's a great, great person, great family. I think he's a very unique big guy these days. Big guys used to just want him to be down low and be tough and screen and score on rebounds, which he can do. A lot of modern bigs want to step out and shoot the three and handle the ball and dribble-handoffs and make good passes and he can do that. So, I think he's really unique because he can step out and play out there, but he also kind of wants to push you around and bully you near the rim and kind of snarl at you a little bit as well.
"He's tough, he's got a great work ethic. Honestly, I think he's going to fill a very important role for the Irish. I couldn't be more happy for him. He loved Mike, (Ryan) Humphrey, the whole staff. He felt really connected on his visit and was ready to call and commit to Notre Dame."
Crotty coached former Notre Dame star – and new NBA Champion – Pat Connaughton as well as current Irish guard Cormac Ryan, so the connections with the staff in South Bend our obvious.
"It brings a familiarity to our program," says Crotty. "But obviously each player is so individual. He's a very good student, he had other great schools recruiting him, but Notre Dame's a great school and a great basketball program.
"He just really felt at home and connected to all of the people; the guys he met, obviously Mike Brey, but he felt connected with Ryan Humphrey. I think he just thought, 'Hey, this is my best opportunity to play, get a great degree, win and and ultimately try to play in the NBA.' That's his goal. I'm just thrilled for him."
While each player is unique, Crotty does see similarities between Campbell and the other players he's seen choose to play at Notre Dame.
"He is cut from the similar cloth; just great families, brought up to respect hard work about discipline, about unselfishness. Those things align with Notre Dame, those things align with the way Mike and his staff run their program. For those reasons, I think it really does line up. The kid's ambitious and he works his ass off to accomplish things, but he's about team first and I think that's ultimately a big part of what connects him to the Notre Dame program."