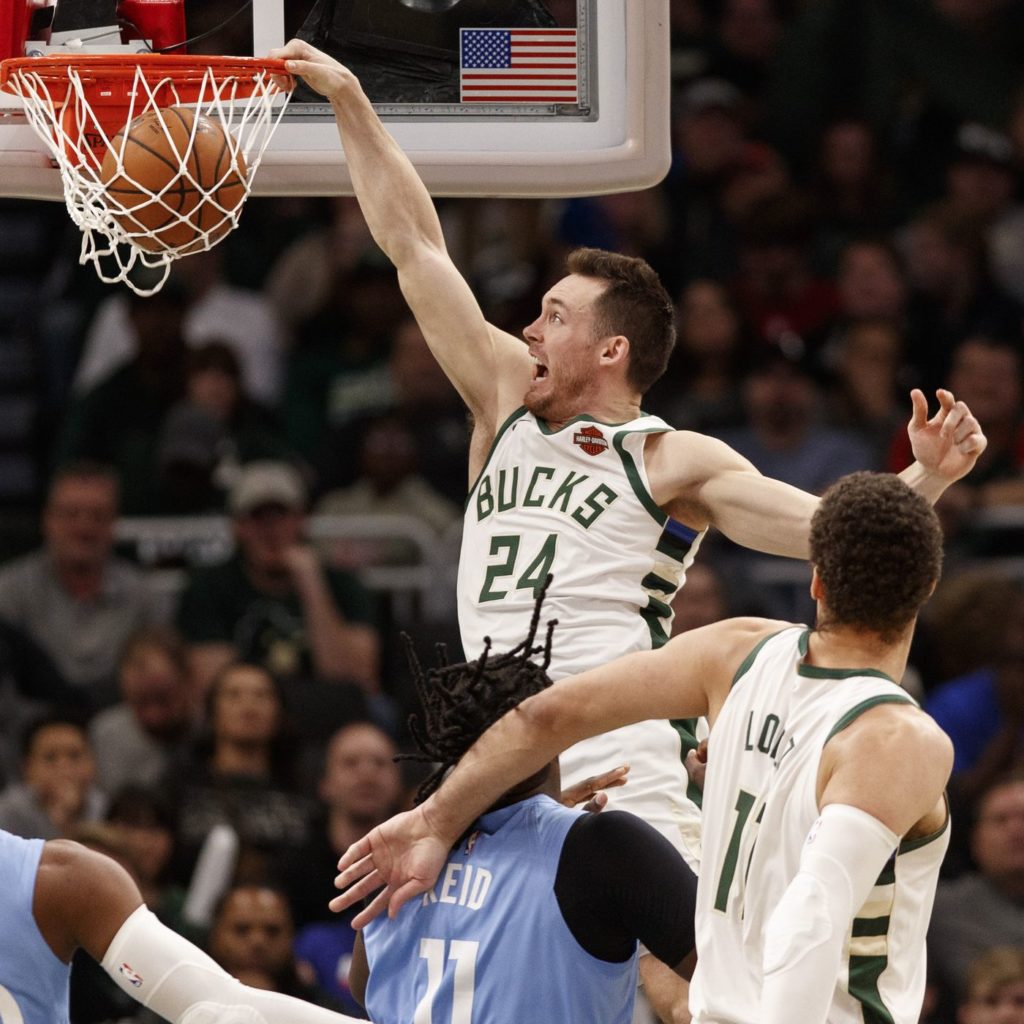 Pat Connaughton has an important phone call on game days
Bucks guard Pat Connaughton has an important phone call on game days. It's a connection to his past.
Ben Steele
Milwaukee Journal Sentinel
Pat Connaughton has played for the Milwaukee Bucks since 2018.
Pat Connaughton likes to hear a familiar voice on game days.
The phone calls don't usually last long. But they are an important ritual, reminding the Milwaukee Bucks guard of how far he has come in his basketball journey. The calls also speak to the fragility of life and how everything can quickly disappear.
Mike Crotty Sr. started dialing up Connaughton over a decade ago when Connaughton was an athletic but unknown guard for St. John's Prep in Danvers, Massachusetts, and Crotty's AAU program, the Middlesex Magic.
"He would call me before every game," Connaughton said. "Tell me if college coaches were coming. Tell me if they weren't. Tell me things that he thought I should work on. Just kind of get me excited for basketball because I had been under-recruited."
Those chats have continued with Mike Crotty Jr. throughout Connaughton's rise to a key player off the bench for the Bucks, who open the NBA playoffs against the Miami Heat at 1 p.m. Saturday at Fiserv Forum.
"My sophomore year (in high school) was when it started," Connaughton said. "His dad would come to every basketball game; then I played for him sophomore summer. Then junior year, I got a few looks. Division II looks. Bentley University was the only offer I had. And his dad kind of stayed the course with me throughout the first half of my junior season."
Back then, Connaughton was more known for his feats in other sports.
"I wasn't a highly touted basketball prospect, shall we say," Connaughton said. "I was a little more highly touted in baseball and some may argue even in football over basketball. But baseball was what people kind of recruited me for in high school."
"I played baseball all summer, I didn't play AAU all that much. I played with a little local team that are also like family. But, for me, when I started to want to play basketball and give basketball a shot, Mike Crotty Sr. was the guy who took a chance on me."
Crotty never got to see how good of a basketball player Connaughton would become. The fixture in New England amateur basketball died suddenly of an infection at 57 in 2010, in the middle of Connaughton's junior season at St. John's Prep.
"My dad was a pretty well-known guy and coach," Crotty Jr. said. "It happened quickly. It was in February. We did the wake at a church, because we knew there was going to be a big turnout. "
The younger Crotty played for his dad and won a NCAA Division III national championship with Williams College in 2003. He also worked as director of player development for the Boston Celtics, winning a NBA ring in 2008.
Then-Celtics coach Doc Rivers was among the many basketball luminaries who waited in a line of mourners that snaked around the block at Crotty's wake, even though Rivers' team had a game that night.
"He paid his tribute," Crotty Jr. said. "Said hi to my mom and my grandmother. That's Doc, he doesn't want any special treatment. He had become friends with my dad and was going to wait in line. I said 'Hey, you're not going to be able to coach a game tonight if we don't get going.'
"He's a good man. Lucky for me to around him and some of his habits as a young coach."
Crotty Jr. stepped in as the director of the program that his father started in 1993. The Middlesex Magic has grown into one of the premier AAU teams in the Northeast.
Connaughton began to garner more attention in hoops while playing with the Magic at a national tournament in July 2010. That's when he picked up a scholarship offer from Notre Dame. More schools followed, but Connaughton committed to the Irish a few months later.
"Coach Crotty Jr. took over the program, he was then 27 or 28 at the time, so not a huge difference in age," Connaughton said. "And I was his first big recruit. We kind of went through the whole process together. I had never been through it. He had never coached somebody who'd been through it.
"So we obviously talked on the phone every game day because of the tradition with his dad. But he kind of helped get me to Notre Dame, get me to have Division I offers. We went through it together. Our relationship became more like brothers more than anything else. We just kind of continued the tradition all throughout college, all throughout the pros."
Tradition continues in the NBA with Blazers, Bucks
Connaughton was a standout basketball and baseball player at Notre Dame. He was the 41st pick in the 2015 NBA draft, playing three seasons with the Portland Trail Blazers before arriving in Milwaukee in 2018. After re-signing with the Bucks last summer, Connaughton averaged 6.8 points in 22.8 minutes in the regular season.
Despite the frantic lifestyle of a NBA player, there's always time for the phone calls.
"We've only missed a handful," Crotty Jr. said.
Sometimes they talk about Connaughton's burgeoning real estate holdings or his charitable foundation that Crotty helps run.
Hoops, of course, is always a hot topic of conversation. In the first round of the playoffs Connaughton will face another former Middlesex Magic standout in Miami sharpshooter Duncan Robinson.
"I feel like I'm a part of that program to this day," Connaughton said. "I always go back, I always go to their practices. I always play with them. I always help kids that are struggling to make college decisions. Just give them my two cents because I went through it."
Crotty connected Connaughton with former Middlesex player Tyler Kolek when Kolek decided to transfer from George Mason to Marquette.
"I thought it would be a great fit for him," Connaughton said. "I said to him, 'At the end of the day, you got to go where you feel is best. If it's out here, hopefully I'll be here for a long time and maybe we'll tear up the nets at Fiserv Forum at different times of the day, different nights of the week.'"
But the topics of those game-day conversations don't really matter. The important part is maintaining a connection for two friends who've been through a lot together.
"It's not even about basketball really, it's about life," Connaughton said. "He's got two kids now. I'm close with them, his wife. The whole thing.
"It's obviously a half-tragic, half-feel good story if you will."