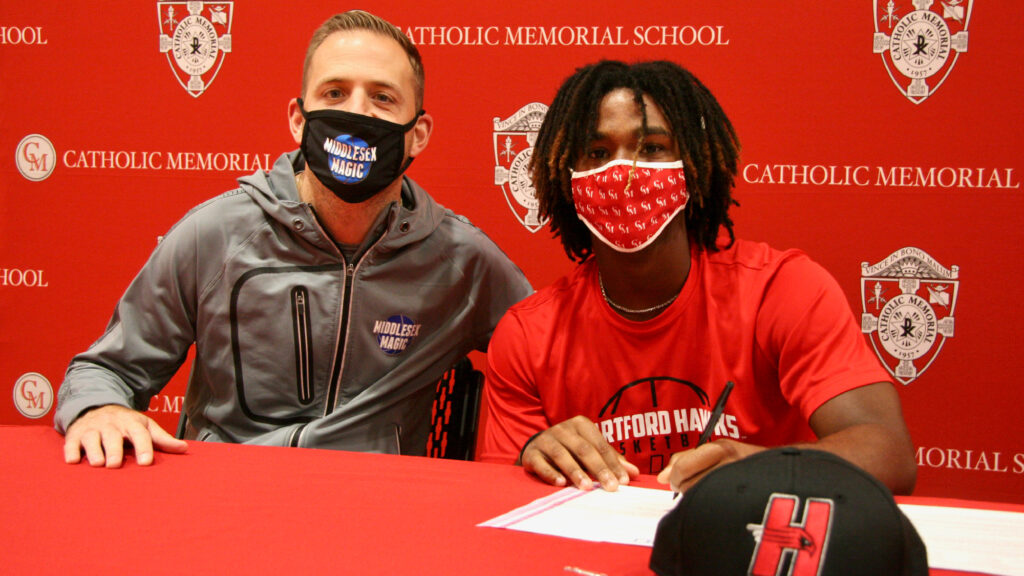 Kurtis Henderson accepts D1 scholarship
Men's Basketball | | Hartford Sports Information
Gallagher Adds Henderson for 2021-22
WEST HARTFORD, Conn. — Hartford men's basketball coach John Gallagher has announced the addition of Kurtis Henderson during the November signing period. A guard from Brockton, Mass., Henderson will join the Hawks for the 2021-22 season.
A versatile guard, Henderson has been stellar in his three years at Catholic Memorial High School, where he plays under head coach Denis Tobin. Eclipsing the 1,000-point milestone midway through his junior season in 2019-20, he closed out the year averaging 25.5 points and 5.3 assists.
"Kurtis is a powerful guard who uses his frame to gain advantages on his opponent on both ends of the floor," said Gallagher, who enters his 11th season at the helm of the Hawks. "He is smart, tough, and most importantly, he has great character. Kurtis will make positive contributions to our program and campus right away, and we are thrilled that he is becoming a Hartford Hawk!"
Henderson was named the MVP of the Catholic Conference for the 2019-20 campaign. He is also a two-time Boston Herald Dream Teamer, a Boston Globe All-Scholastic honoree (2018-19) and a Boston Globe Athlete of the Year award winner (2019-20).
Henderson played AAU for Middlesex Magic, the same organization in which Duncan Robinson of the NBA's Miami Heat played, under Mike Crotty.
"Kurtis has learned the game from outstanding coaches, both in high school and from playing for his strong AAU program," Gallagher said. "The basketball stock he comes from is a big reason we are excited about his college career."
The Hawks return four starters from a team that went 18-15 and qualified for the championship game of the America East Playoffs in 2019-20. It marked the second time in program history that Hartford advanced to the championship, but the Hawks' postseason run came to an abrupt end just before the title game due to the COVID-19 pandemic.