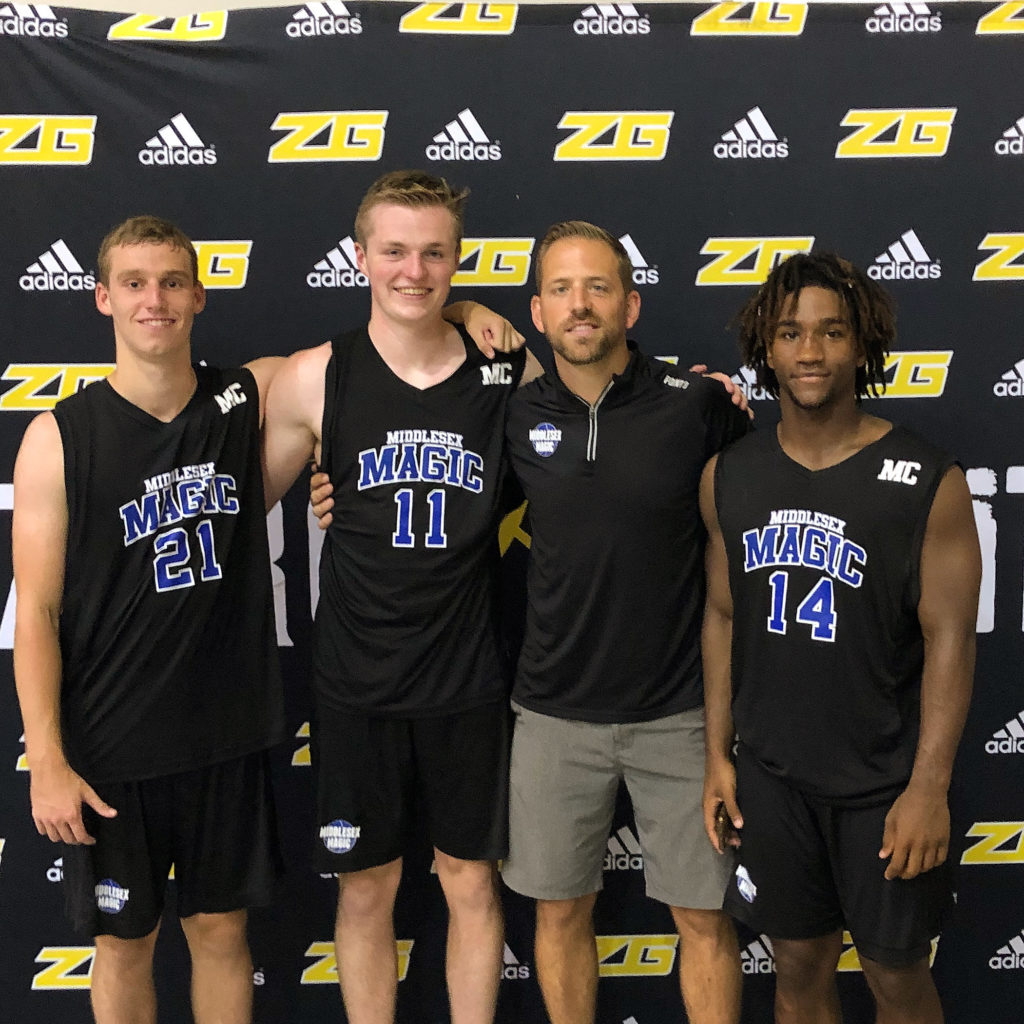 Middlesex Magic Featured by New England Recruiting Report
Be Seen – Middlesex Magic 2021
The Middlesex Magic's resume from the last few years is well-documented with three straight HGSL and Super 16 championships, and numerous other titles in between.
Perhaps less known is the true depth of the program. In fact, in the class of 2020 alone, they sent 30 players on to play college basketball, which was more than any other program in New England.
This year, they've pushed the boundaries even farther, with four different varsity teams, all of which are filled with players who have legitimate aspirations for the next level.
The Magic's ascension though hasn't just been in regard to depth, but overall talent as well. While the program has produced a pair of NBA players in Pat Connaughton and Duncan Robinson, their typical annual make-up consists of a combination of D1, D2, and D3 prospects.
This year, that would have been notably different. In fact, 10 of the 11 players on program director Michael Crotty's u17 team have already been offered a full athletic scholarship, despite the fact that coaches from those levels haven't been permitted to be out yet.
Four players in the class of 2021 are already committed to division I schools: George Smith to Penn; Robbie Stankard to Columbia; Josh Bascoe to Bucknell; and Kurtis Henderson to Hartford. Noah Helmke and Graham Robinson, from the Magic Lambros team, are also off the board to Amherst and Hamilton respectively.
That list of six schools also illuminates another theme of the program which is the sheer volume of high academic prospects for all levels of college basketball.
Here's a rundown of some of the still available rising-seniors that we saw last week when we visited the Magic for a stop on the Be Seen Tour:
Matt Mulvey, 6-1, Guard, Brooks – One of the best pure shooters in the gym (which is saying something in this program!), Mulvey has a D1 offer to his name and is a prime target for the most prestigious academic D3 schools. He's become very proficient at attacking close-outs and is a total gym rat according to all reports.
Aidan Godfrey, 6-8, Forward, Cheshire Academy – His recruitment has perhaps been more impacted by the lay-off than any other player on the roster. He's loaded with tools – size, strength, awareness, inside-out skill – and is just beginning to put them all together and tap into his full potential.
Matt Price, 6-0, Guard, Kimball Union Academy – Maybe the biggest stock-riser in the program Price has played his way up to the program's top team, earned his first scholarship offer, and become known for his unique combination of skill and intangibles.
Jack Richard, 6-4, Wing, Rivers – There are a series of smart, shot-makers in this program, but few who do those two things as consistently, and with the same size on the perimeter, as Richard. He's also credited for being one of the program's most important culture pieces.
Jacob Gibbons, 6-4, Wing, Exeter HS – Gibbons really seized the opportunity to make an impression in this setting. He's a multi-positional lefty on the perimeter who has a good build and is a solid athlete. He's a capable shooter with a well-rounded game and notable upside still left to discover.
Tim Reidy, 5-11, Guard, Needham – Super quick with a tight handle, Reidy can get to all his spots off the dribble and is equally quick on the defensive end of the floor. He's not an incapable shooter, has grown up around the game, and is an exceptionally qualified student in the classroom.
Matt Fernandez, 5-8, Guard, Needham – What he may lack in sheer size, Fernandez more than compensates for with grit and intangibles. He's a hard-nosed defender who can make open shots and does all the little things on both ends of the floor.
Luke Fonts, 6-1, Guard, Portsmouth Abby – Physically strong and loaded with intangibles, Fonts appears to be a favorite among his teammates, as much for his willingness to create them open shots as well as for his demeanor and approach.
Ty Murphy, 6-0, Guard, Xavier Brothers – A skilled and fundamentally sound guard, Murphy shoots it very well from behind the arc but looked equally good pulling up in the mid-range player. He's seasoned, proven, and just solid across the board.
Garvin McGlaughlin, 6-4, Wing, Milton Academy – A high IQ shot-maker who has been well-coached on both ends of the floor, McGlaughlin understands concepts and knows how to play, provides constant floor spacing, and looked virtually automatic in rhythm.
Wesley Galliard, 6-0, Guard, Match Charter – Coming off a big junior campaign in which he put up nearly 23 points and 9 assists per game, Galliard looked good in this setting as well. He shoots it well, moves the ball, defends, and rebounds from the perimeter.
Christan Rios, 6-4, Forward, Malden Catholic – Physically strong, with a very good build, Rios played bigger than his size around the paint but also had some potential versatility. He gets downhill off the dribble, can start the break himself, and is working develop his shot.
Peyton Springfield, 6-4, Wing, Winchendon – The New Hampshire native was a 1,000 point scorer at Conant before arriving at Winchendon, where he was the team's most improved player. He's strong, aggressive, and competes with a high-motor on both ends of the floor.
Casey Rockett, 6-1, Wing, Belmont Hill – A former football recruit who is know focused on basketball, Rocket is strong and athletic. He lives in the paint but also shot a high percentage from the three-point line. He's also a very high-level student.
Sean Gogolin, 6-6, Forward, Winchester – He's a long-term stock who hasn't yet been a standout in high school but has some definite potential. He's wiry with some budding skills and a consistent strength training program away from emerging.
Luke Poirier, 6-1, Guard, Andover – He was a pleasant surprise. The lefty played with pace, made some impressive plays in the open floor, and clearly looked the part of a future college player.
*not present at the workout were: Lucas McEachern who already holds a D1 offer; James McGowan, a known three-point shooter; Drew Sachs, another player with heavy D3 recruitment; and Ben Kaczmarek, a well-known product from St. Sebastian's.