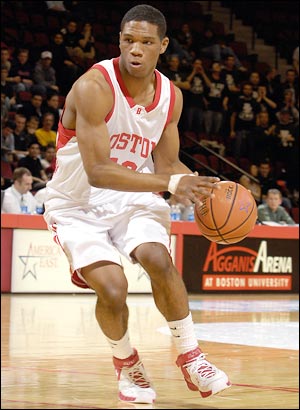 Newton North High School
Helped lead Newton North two back to back Division I Massachusetts State Championships in 2005 and 2006
Averaged 19 points per game and 10 assists per game senior
Three-time Baystate Conference All-Star
Member of Boston Globe "Super Team" and Boston Herald "Dream Team"
Baystate League MVP as a senior
Boston University
Received a full scholarship and was 4 year starter
Career leader in 3 point field goals made
1815 career points
4 time America East All Conference honoree
Professional Basketball
Corey played professional basketball for 4 years in Isreal, Latvia, and Brazil after graduating from Boston University.
How the Middlesex Magic helped me the most
The Middlesex Magic program is the most consistent, well-run, and respected program around. It has been nearly 12 years since I last wore the jersey, but somehow every SINGLE day find myself telling a story from our road trips or running into someone who played for or against the Magic. The Magic are more than a team. The entire program is one huge family, and I met some of my best friends through playing hoops with the Middlesex Magic.
Current Profession
Corey is currently living in Beacon Hill and works as a consultant in Information Technology recruiting at Edgerock Technology.