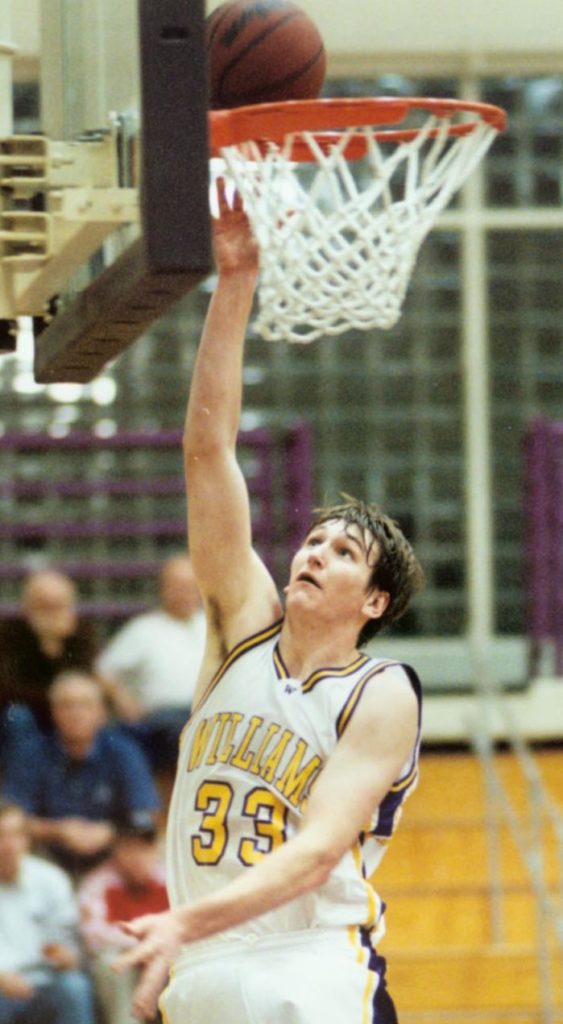 Westford Academy
Consecutive Division II North Finals appearances in 1999 and 2000
Westford Academy single game scoring record 47 points
Most points in a single season (556 points in 23 games)
MVP of Dual Country League 2000
Boston Herald and Boston Globe All-Scholastic
Westford Academy Athletic Hall of Fame Inductee
Williams College
Career record 104-16 & two Final Four appearances
2003 NCAA Division III Final Four Most Outstanding Player
2003 1st-team All-NESCAC and 2004 NESCAC Player of the Year
2003 and 2004 New England DIII player of the year
2004 NCAA 1st Team All-American
1274 Career points and all-time leading rebounder with 836
Best Memories of Playing with the Middlesex Magic
I first met Coach Crotty Sr. my junior year at Westford Academy after we had beaten Arlington High in overtime to advance to the D2 North Finals. He was there to watch Phil Barlow (a future teammate on the Magic) and approached me after the game. After a brief conversation he asked if I was interested in trying out for the Magic. I responded that he would have to ask my mother. I vividly remember his smile and puzzled look to my response. I pointed him in her direction and little did I know that that conversation would send my life on a path that would include great friendships, many victories, countless life lessons and admission to a college where I would meet my future wife, play with an amazing group of teammates/friends and compete in two D3 National Championship games.
How the Middlesex Magic Helped you the most
I learned two things very quickly at my first Magic practice. 1.) If you were open, you shot the ball and 2.) I was surrounded by a group of very talented guards who liked to play fast. It was a great group of guys, many of which I played against in college and am still friends with today. Coach Crotty demanded an "us against the world" mentality. It was a powerful and a very necessary strategy as we were often much smaller than the teams we were playing against. His gift was an ability to connect with players and give them what they needed to be successful at both basketball and life. For me this came down to one thing, confidence. I was a pass first post player who had the ability to score but was unselfish to a fault. He saw my ability and pushed me to be more assertive. "I don't care if you miss ten shots in a row, what I care about is you passing up shots." His aggressive, sometimes brash style was a breath of fresh air for me and I flourished. We had a fantastic spring, summer and fall season which led to significant interest from college coaches and eventually my acceptance to Williams. Fast forward 12 years and it is amazing to see what Coach Crotty Jr. has done with the program. The passion which he brings to coaching is unsurpassed. In a world of sneaker contracts and scandals the Middlesex Magic is a program which prides itself on helping young men and women learn life lessons, create amazing relationships and ultimately use basketball to help them attend top tier colleges. I look forward to continuing to be one of the Magic's biggest fans and to follow the outstanding student athletes that it produces.
Current Profession
Executive Vice President at fortune 500 commercial real estate firm, Jones Lang Lasalle (JLL).