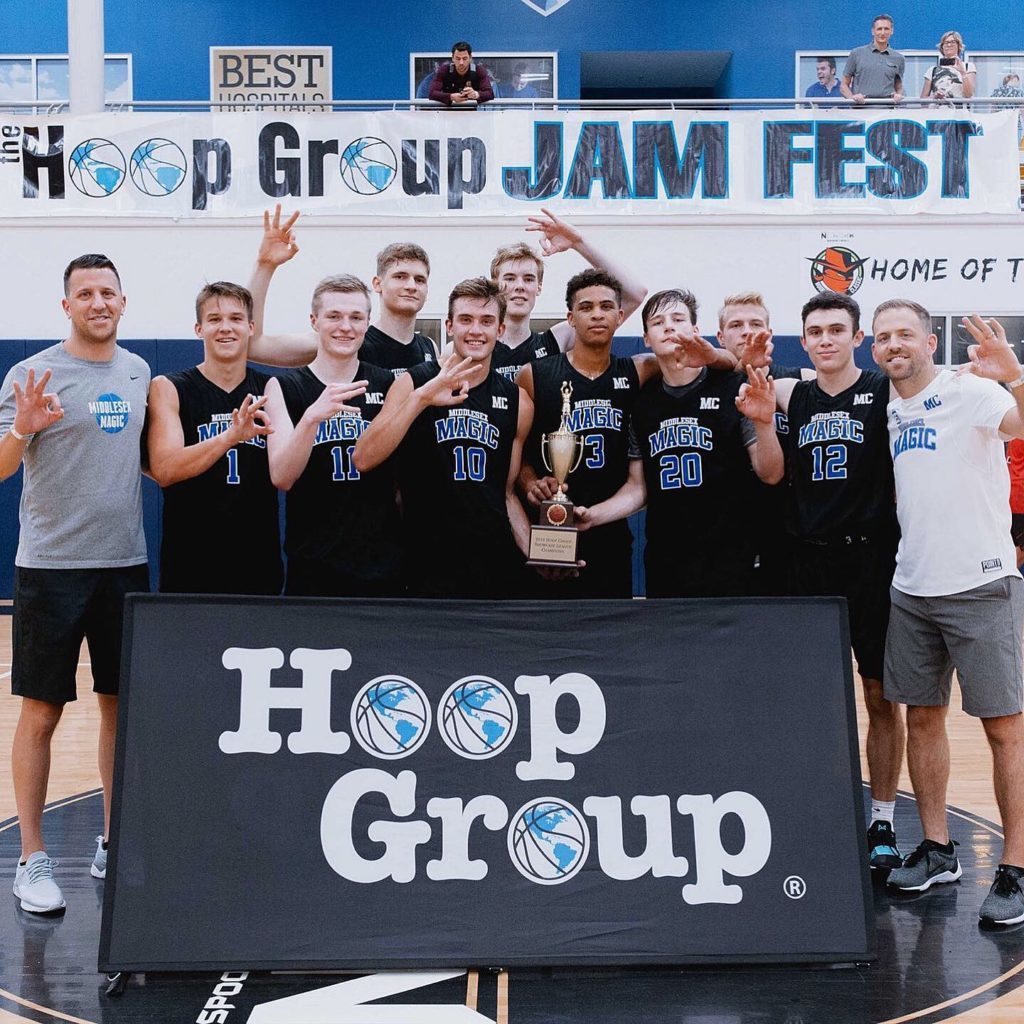 Middlsex Magic 2019 NERR Summer Recap
Summer Recap – Middlesex Magic
The Middlesex Magic was founded in 1993 by the late Michael Crotty Sr.  For the last 10 years the program has been under the direction of Michael Crotty Jr. Crotty Jr. was on the very first Magic team and went on to become a two-time NCAA All-American and captain of the Williams College 2003 National Championship team.
Following college, Crotty Jr. played professionally with stops in Germany, the Philippines, and with the Harlem Globetrotters. His coaching career began a year later when he was named the Boston Celtics' Director of Player Development and was part of their staff for the 2008 NBA championship.
In total, the Magic have now helped over 380 student-athletes play college basketball with over 60 alums current playing college basketball. They also have two alums, Pat Connaughton and Duncan Robinson, playing in the NBA with the Milwaukee Bucks and Miami Heat respectively.
What was your team's biggest collective accomplishment this summer?
"Winning the Hoop Group Showcase League (HGSL) championship for the third consecutive year was the biggest accomplishment on the court. The biggest overall accomplishment for the program is having 30 players currently being recruited to play college basketball. The Magic had three junior teams (Crotty, Reidy and White) that all had great success playing in the top level brackets at regional and national tournaments.
Who was the individual prospect who helped themselves the most?
Sam Thomson, Brooks, 2020 – "Tyler Kolek is an all-time Magic great who put his stamp on the program by leading us to five championships and earning 25+ D1 offers in the process, but Sam Thomson entered this year with zero offers and finished with over 20 before committing to Colgate. He is one of the most versatile big men in Magic history.  He possesses a remarkable motor, is a fantastic passer, a great anchor on the defensive end in the paint and on the perimeter and continues to develop his ability to score the ball inside and out. In 2021, George Smith also took his game to new heights this season and is a complete guard who will have a big leadership role for the Magic next year.
Who is one prospect who is still a little under-the-radar?
Niko Rocak, Phillips Exeter, 2020 & Bryson Andrews, Bridgton Academy, 2020 – "Niko came back from injury in late May and was a key part of our run to the HGSL championship.  Rocak is an extremely skilled and athletic player who will garner significant DI attention this fall and winter at Exeter."
"Bryson's play earned him his first scholarship offer this summer. He's an extremely long and talented guard who can score at all three levels and defend multiple positions.  He should see his star continue to rise in his PG year at Bridgton."
Who was the most improved player in the program?
David Brennan, Roxbury Latin, 2020 & Jack Poirier, Scituate, 2020 – "David and Jack are the two most improved players in our program. Brennan, a Magic player since 3rd grade, continues to add to his skillset and possess an even stronger frame.  A tough 6'5 forward, he increased his range, passing ability and defensive prowess and has multiple high academic D3 schools recruiting him. Poirier is one of the best shooters in program history, but it was his ability to make plays off the dribble for himself and his teammates that helped him earn multiple scholarship offers this summer.  An amazingly hard worker, Jack is always adding more tools his arsenal."
What are you most excited about heading into next year?
"We are very excited about the continued growth of depth within our high school program. Our class of 2020 will have 30 college basketball players, and we look forward to the helping the class of 2021 develop and providing them with the platform to showcase their ability to college coaches. We also have the goal of winning the HGSL for the fourth year in a row, and remaining the only team to ever win the title. We bring back many players that hold scholarship offers and have the ability to play at a very high level.  Players like George Smith, Kurtis Henderson, Will Batchelder, Robbie Stankard, Matt Mulvey, Dylan Ahearn, Ben Kaczmarek, Brendan McNamara, Holden Symonds, Trevor McDonald, Keegan Sullivan and many more will help shape our 10th and 11th grade teams in 2020."