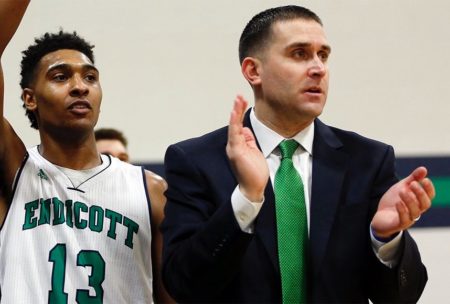 Peabody High School
All Time Scoring Leader with 1810 points
3 Time Greater Boston League All-Star 2000, 2001 and 2002
Greater Boston League MVP 2002
Boston Herald Dream Team and Boston Globe Super Team 2002
Bucknell University
Accepted full Division I scholarship
Four-year letterman and two-time captain of Bucknell Men's Basketball
Two Patriot League Championships in 2005 and 2006
Two NCAA Division I Tournament appearances in 2005 and 2006
Chosen as the NCAA Chevrolet Player of the Game in NCAA wins over Kansas (2005) and Arkansas (2006)
Three-time Second Team All-Patriot League selection (2004-06)
2003 Patriot League Rookie of the Year
Ranks fifth on Bucknell all-time scoring list with 1,577 points
Ranks second on Bucknell all-time 3PTers made with 294
Best Memories playing for the Middlesex Magic
My best memories playing for the Middlesex Magic were the trips to Las Vegas and Orlando to compete against the best players in the country while hanging with teammates who have become lifelong friends. Our best victory in Orlando came against a team out of Chicago that featured Andre Igoudala. We beat them in pool play and they went on to become the National Champions a few days later.
How the Middlesex Magic helped me the most
The Middlesex Magic gave me the opportunity to receive recruiting exposure which led me to Bucknell University. Also, it showed me the high level of basketball at the National Level which motivated me to put more time into my game and become a successful college player.
Current Profession
Head Basketball Coach at Endicott College