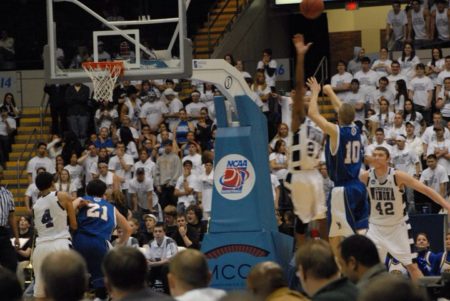 Lexington High School
2002 Boston Globe All Scholastic Team
2002 Middlesex League MVP
2001 and 2002 Middlesex League Champions
Bentley University
Northeast-10 Conference Champions in 2005, 2006, and 2007
4 year Career Record of 101-27
Part of teams that posted winning streaks of 22 games in 2005, 13 in 2006 and 32 in 2007
2007 team advanced to the NCAA Elite Eight and finished the season ranked No. 2 in the nation
Bentley's Francis M. Bennett Most Improved Player in 2005 and Senior Male Athlete of the Year in 2007
Best memories playing with Middlesex Magic
My best memories of playing for Middlesex Magic involve our trips around the country to play in the top exposure events against the country's top players. The Bob Gibbons tournament in North Carolina, and the Hoops TV Classic at the University of Maryland were two of these events that stick out. Our team had numerous successful college players, but more than the games was the life long relationships that were developed through the Middlesex Magic program. Some of my closest friends now 14-15 years later were members of those teams. As a college basketball coach, I can proudly say it was the perfect situation for young people to be a part of during their high school years. Coach Crotty Sr's personality was truly personified in the Middlesex Magic program, and the relationships and personal confidence developed in each young man is still very evident today.
How the Middlesex Magic helped you the most
One thing that sticks out in my mind that Middlesex Magic helped me with the most was to develop my confidence at a very high level. This was not to say I lacked confidence prior, but Coach Crotty's tough, demanding coaching style combined with his sincere love and care for his players took it to an even higher level. He let each player know how much he believed in them – that they could perform at an even higher level than they thought they could. I know for a fact this transcended to more players than myself, as he coached countless Magic teams that overachieved from preaching unselfishness, toughness, as well as developing individual and team confidence. These are traits that Coach Crotty Jr has continued to hold of the utmost importance as he carries on the legacy of the Magic program.
Current profession
Currently, I am an assistant coach at Duquesne University, located in Pittsburgh, Pennsylvania. Duquesne competes in the Atlantic 10 conference, which in addition to the Big East has become one of the top basketball only conferences in the country.. I am very fortunate to be able to develop my own player's confidence and belief in themselves to improve daily both as players and people. My own coaching style was provided an excellent foundation by Coach Crotty Sr through my experience as a young player in the Middlesex Magic program.